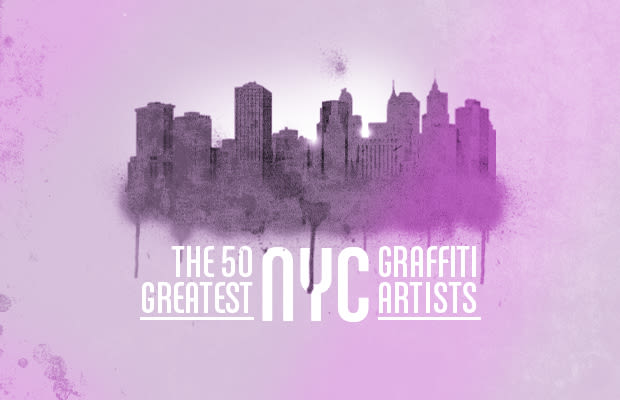 COMPLEX MAGAZINE ARTICLE – Having a top 50 list with no explanations just doesn't work, so I've carved the subway movement into sections and tried to work that way—tags, style, throwies, etc. Trying to figure out how much weight to give to a category of writing is tough. Even tougher for the writers is that each generation has to surpass the next in quantity and quality. This is particularly tough on writers in the '80s and '90s. I think most writers can agree on at least 40 of the writers, after that it probably becomes more subjective. When you get frustrated with my list do what I did, ask yourself which one of these greats would you take off to put in your candidate? Good luck. Let the debate begin.
BY CHRIS PAPE –
50. Ja
Neighborhood: New York/Los Angeles
Years Active: 1984-present
You would think that a writer from the 80s couldn't make this list with just a throw-up, but Ja did. After kinging New York, he moved to Los Angeles and took that city by storm. He still hasn't stopped. Amazing.
49. Revs
Neighborhood: Brooklyn
Years Active: early '80s-present
Revs is probably the biggest crossover writer from the subway movement to the street art movement, which is something he refuses to capitalize on. He began hitting subways in the early '80s and had a decent career. In the late 1980s he teamed up with his partner Cost to do a series of wheat-pasted messages throughout the city. If that wasn't enough, the duo began using bucket paint to roll their names from rooftops. When Cost retired, Revs decided to write his autobiography in every tunnel in the transit system; it's still an unfinished work. When he isn't working on his autobiography, Revs is soddering unique sculptures in the five boroughs. He's a legend.
48. Tats Cru
Neighborhood: The Bronx
Years Active: early '80s-present
Tats Cru was formed as a subway writing crew in the early 1980s by Brim. Each member of the crew had style to spare, and they were a major presence on the IRT lines. When the subway movement ended, the group disbanded, with members reuniting occasionally to paint walls. In 1996 Tats Cru became an official company with Bg 183, Nicer, and Bio. They've been paid well to paint murals around the world and are to the commercial mural world what Crash and Daze were to the fine art world. While making money is nice, Tats Cru is also an institution in the South Bronx, where they teach a class in painting and constantly give back to the community.
47. Cope 2
Neighborhood: The Bronx
Years Active: 1980-present
Cope 2 has seemingly had three careers as a writer. He began on the trains in the early '80s, eventually kinging the 4 line. When graff moved from the trains to walls, Cope and his crew Kings Destroy did incredible murals. And finally, he has one of the most ubiquitous throw-ups around.
46. Ces
Neighborhood: The Bronx
Years Active: 1983-present
Ces began hitting trains in 1983, staying on the showcase lines of the IRTs. As the wall movement began, Ces became a strong writer for the legendary FX crew. Through the crew he had entered the European scene and took full advantage of it, he continues to paint around the world and is co-owner of Tuff City in the Bronx.
45. Sane/Smith
Neighborhood: Manhattan/Queens
Years Active: 1984-present
Sane/Smith were originally two brothers from Manhattan who made a conscious effort to get up in the most obscure spots in New York, as well as the most visible (like the Brooklyn Bridge). When Sane passed away, Smith kept the duo's name alive by painting both their names.
44. Lady Pink
Neighborhood: Queens
Years Active: 1979-present
Lady Pink had a decent subway career in the 1980s, but it's not what puts her on this list. Her murals of the 1990s are visually very distinct and usually involved fun imagery with camouflaged graffiti. Residents of the neighborhood loved them, and she was still getting up changing the thought process of a lot of emerging writers.
43. Sento
Neighborhood: The Bronx
Years Active: 1985-present
Sento is another writer that hasn't stopped in almost 30 years. His whole-cars of the late '80s are legendary. After hooking up with Kase 2, Sento's style began to evolve, breaking away from traditional subway styles. He did walls, freights, and trains in Europe, helping establish a strong TFP presence in other countries.
42. Ket
Neighborhood: Brooklyn
Years Active: 1986-present
Ket's been painting for over a quarter of a century, rarely taking a break. His promotion of the graff movement via Stress Magazine, and later Complex Media, has helped pushed the movement into uncharted territories.
41. Ven
Neighborhood: Brooklyn
Years Active: 1984-1995
Ven was famous in the late 1980s for two things: 1) He was known as the great communicator and brought together writers that normally wouldn't have met. He also hooked up a lot of old school writers with a chance to do one last train. 2) His war on the clean cars that ran through the 90s was something that put him at considerable risk and on the top of the Vandal Squad's most wanted list.
40. Reas
Neighborhood: Manhattan
Years Active: 1980-present
Reas began writing in the early '80s and was going strong by 1985. He was highly respected as a character man as well as a stylist. In the late '80s he loosened his style up a little bit as he began hitting clean cars with Ven. He continues to paint around the world.
39. Crash and Daze
Alias: Chill 2
Neighborhood: The Bronx/Manhattan
Years Active: 1977-present
Crash and Daze were two great writers, famous for both style and characters. They make this list for being the first two writers to live the lives of professional artists – making money exclusively from their canvasses. It seems everybody has a chance to do it today, but back in 1980 when they began their gallery careers, the odds were stacked heavily against them.
38. Mitch 77
Alias: Tue
Neighborhood: The Bronx
Years Active: 1975-1980
Mitch 77 was the total package on the 4 line in the late '70s, crushing trains with burners and whole-cars and even the occasional throw-up.
37. Ghost
Alias: Six-Pack
Neighborhood: Queens
Years Active: 1980-present
There are so many iconoclasts that didn't make this list, like Lsd-Om and Futura 2000, that it's nice to have someone on here who broke all the rules, which is what Ghost did. From 1980 to 1986 he painted in the style of the RTW writers, at the same time he was warring with them. After a quick break, he regrouped and threw out the style handbook. His pieces from 1987 to 1989 were sprawled across trains like an octopus thrashing about. From a strict composition point of view, they made no sense, but they worked. His throw-ups were just as radical, usually done sideways or upside down; they gave the illusion that they were flying by in the breeze. He continued to paint during the clean train movement and today paints globally.
36. T-Kid 170
Neighborhood: The Bronx
Years Active: 1977-present
T-Kid 170 is probably the last writer in the lineage of the TDS, TFP, and IND's stylemasters. He learned from such masters as Tracy 168 and Padre Dos in the 1970s and started evolving into his own style in the '80s. His ability to draw helped him immensely when he started competing with European writers through the '90s. He continues to paint around the world.
35. Doc TC5
Aliases: Arab, Bagel
Neighborhood: Brooklyn
Years Active: 1980-present
If you ever wondered what would've happened if Dondi had continued to paint into the 1980s, you need look no further. Doc was a stylemaster in the mold of Dondi and rarely wasted his time with anything else. When the subway movement ended in 1989, Doc continued to paint walls, where he's still a major presence.
34. Doze
Neighborhood: Manhattan
Years Active: 1979-1986
While not the most prolific writer on the trains, his influence in the graff community was deep. Doze was one of the major writers from Art and Design High School, where he handed out styles to anyone that asked. He's credited with inventing the Mugsy character, an iconic figure on the Broadway line.
33. Zephyr and Revolt
Aliases: Gold, Heist, Chi 193
Neighborhood: Manhattan
Years Active: 1977-1985
Zephyr and Revolt were two writers that emerged from the Bandshell scene of the '70s. They were writing partners that complimented each other well. While Zephyr was probably stronger in style, Revolt was a master at characters. When they finished on the trains, the two writers continued painting illegally and helped jumpstart the freight train movement.
32. Min
Alias: Ne
Neighborhood: Manhattan
Years Active: 1977-1985
Min has been dubbed the unlikliest king of the city. When he started writing in 1977, he was so short that he took the name Miniature – Min for short. He learned at the hands of legendary RTW founder Bilrock, and when Bil quit the scene in 1980 (the only reason he's not on this list), he gave the crew to Min. Min did throw-ups on almost every line, and with Kel, he did a series of wildstyle top to bottoms from 1983-1985. He was finished by 1986.
31. Haze
Alias: Se-3
Neighborhood: Manhattan
Years Active: 1973-1984
Haze was definitely not the biggest bomber on this list, but it doesn't matter; his throw-ups were a work of beauty. His Se-3 is considered the gold standard for a throw-up. He's also responsible for bringing color to the throw-up which were usually done in bright silver.
30. Quik
Neighborhood: Queens
Years Active: 1974-1986
Quik took the same route as Iz; both writers were up in the 70s, and they just kept going. He popularized the usage of doing a face in his first letter, something that is still seen around the world in the work of other writers. Like Iz, he did whole-cars and burners as well.
29. Iz
Alias: Ike 357
Neighborhood: Queens
Years Active: 1973-1989
If you were a bomber in the 1970s and didn't make the list for that era, then the only way to do it was to keep going, and going, and going. He has arguably bombed more trains than any other writer with his ubiquitous throw-up.
28. Seen
Aliases: Psycho, Apache
Neighborhood: The Bronx
Years Active: 1978-present
Seen did it all – perfect whole-cars, great throw-ups, window down burners, and beautifully rendered characters. He and his UA crew ruled the 6 line for a decade and took over other lines at will. Seen's Hands of Doom whole-car is one of the most iconic trains ever painted; it was done in 1980 and was known for its gradual fades. Seen continues to paint around the world.
27. Kyle and Jon 156
Neighborhood: Harlem
Years Active: 1980-1987
It was difficult to top the whole-cars of the 1970s; it seemed like everything had been done, including an abstract car by Futura. This didn't stop Kyle and Jon from bringing their own unique take on what a whole-car should look like. Jon was a great stylist, and Kyle was an expert illustrator who sometimes took 10 hours to paint one character. As their works progressed, Jon began experimenting with abstract letters, sometimes throwing paint at a train. They were unique voices at a time when that was hard to find.
26. Noc 167
Alias: Boy Five
Neighborhood: The Bronx
Years Active: 1976-1984
Noc 167 gets my vote as the greatest stylemaster. He was mentored in the mid-'70s by style greats Nic 707 and Stan 153 who encouraged his drawing ability, as well. During the late '70s, as Noc's reputation spread, he was offered free spraypaint by other writers who just wanted to see him paint. Two of his most famous cars are the Boy 5 whole car with Dondi and his Style Wars whole-car done in 1980.
25. Slave
Alias: Ken
Neighborhood: Brooklyn
Years Active: 1975-1980
When you think of TF5, you usually think of Lee and whole-car specialists; then there was Slave. He was a master at style and did many of his pieces with the letter A upside down. He reached his peak in 1977, and 1978 and was just as strong since the TDS writers were at their peak.
24. Kel 139
Neighborhood: The Bronx
Years Active: 1977-1984
Kel 139 is one of those rare writers who's been involved with three major crews at a high level. In the late '70s, he left the elite IRT lines to join Dondi in Brooklyn, and the two writers spurred each other on. In 1979, he created Roc Stars, an elite style crew that would pull out window down burners on all 10 cars of whatever train they painted. They pulled off this feat numerous times. As that crew disintegrated, he moved on to become a pivotal member of RTW, helping to tighten up the style of the crew.
23. Dondi
Aliases: Naco, Bus 129
Neighborhood: Brooklyn
Years Active: 1976-1984
Dondi was not unlike Kool 131 in that it was all about the outline. He also had great camouflage skills. Dondi would become one of the strongest writers to emerge from the Brooklyn scene. He did great whole-cars, blockbusters, and throw-ups, and he possessed a great tag, but his claim to fame was style. He worked with various writers, always making them stronger. He left the trains in the early '80s to enter the art world.
22. Kool 131
Aliases: 2 Bad, Warm, Vega 2, Dobra 2, Boss
Neighborhood: Harlem
Years Active: 1975-1984
Kool 131 was a fan of Riff 170 and wrote as many names as possible to stretch the limits of style. What makes Kool's work unique are the clean fill-ins, which have very few camouflage elements. This was because he was color blind. If his outline didn't work, then it was over. Needless to say, Kool's outlines almost always worked.
21. Chain 3
Aliases: Tee Bag 170, Word, Dr. Phibes, Ash, Pod, Peel
Neighborhood: The Bronx
Years Active: 1974-1983
Chain 3 had so much style that he was a key member of two of the greatest style crews ever. He was a co-founder of TDS and helped paint some of their most popular cars. In 1978 he retired for a period before teaming up with TMT to challenge his old crew. In the 1980s he did some cars with other greats including Skeme and Dez.
20. Part
Aliases: 2 Worm, Fudge 357
Neighborhood: Harlem
Years Active: 1974-present
Part seems to have three different graffiti careers. He began as a stylist in 1974, gaining recognition on the 6 line. In October of 1976, he started to paint with TDS, making him one of the strongest stylists in graffiti. When he finished with the trains in the '80s, he moved seamlessly on to the walls of his beloved Harlem. Today, he paints around the world.
19. Comet
Neighborhood: The Bronx
Years Active: 1971-1989
Comet was Blade's partner, and like Blade, he had also painted 5,000 trains. A good portion of his arsenal was sheer-bombing with Comet throw-ups. He had a 5-letter name and a nice style; it was amazing that he could keep up let alone set the pace, as he frequently did.
18. Jester
Alias: Dye 167
Neighborhood: The Bronx
Years Active: 1972-1977
There were a lot of active throw-up specialists in the '70s. The ones that made this list had to bring something else to the table, and for Jester it was style. He had pretty much done everything else in writing by 1975, and he was highly competitive; the throw-up became the next step for him, hitting all lines with his Dye 167s or DY 167 bubble letters until his retirement in 1977.
17. In
Alias: Kill 3
Neighborhood: The Bronx
Years Active: 1974-1977
As writers began to get known for what they did: "He's a whole-car specialist. Yo, that guy's a stylemaster!" In decided to flip the script by inventing the throw-up. The throw-up was defined as a two-letter name painted as quickly as possible on as many trains possible. In hit 10,000 in just a few years, and then he retired.
16. Butch 2 and Kase 2
Neighborhood: The Bronx
Years Active: 1972-2010
Butch and Kase were two of the greatest stylists ever, but they were also responsible for a slew of innovative whole-cars from 1974 to 1977. The cars usually featured their names painted in wild style lettering with characters bookending them. At the time, most whole-car specialists went for legible "billboard" style lettering for simple reading.
15. Lee
Alias: Mom 101
Neighborhood: The Lower East Side
Years Active: 1974-1982
Out of all the whole-car specialists, Lee is at the top of the list. His mature works from 1977 to 1982 engaged him in a dialogue not just with other writers, but with the city at large. Themes included his fears of a nuclear war, the catholic church, and his own love life.
14. Cliff 159
Alias: Paz 2
Neighborhood: The Bronx
Years Active: 1970-1976
Cliff 159 had the all-around skills that Tracy 168 possessed. While his name had all-city status, his real notoriety was as a whole-car specialist. In 1975 he started a run of whole-cars that featured comic characters from Snoopy to Dick Tracy.
13. Caine 1
Neighborhood: Queens
Years Active: 1973-1976
Caine 1 wrote almost exclusively on the 7 line in Queens. He rarely followed the current styles and was known primarily as a whole-car specialist. He painted cartoon imagery and was probably the first writer to take a crack at realism with his depiction of Alice Cooper. On the night of the bi-centennial, Caine was responsible for putting together a group of writers that painted 10 whole-cars – one of only two whole trains ever painted.
12. Blade
Alias: Steve
Neighborhood: The Bronx
Years Active: 1972-1984
Blade is known as The King of Graffiti – a title that's hard to dispute. He's painted over 5,000 trains but is best remembered for his iconic whole-cars. He chose to paint characters he created instead of appropriating imagery like most writers. In 1980, he began using the trains for his more conceptual works – most notably, his Walking Letters car.
11. Ree 2
Alias: Opel
Neighborhood: The Bronx
Years Active: 1973-1978
Ree was important as both a stylist and whole-car artist. He was the most visible member of the MTA crew as well as its president. The crew painted side by side with TMT, where he also garnered respect.
10. Pel
Alias: Dime 2
Neighborhood: The Bronx
Years Active: 1972-1978
Pel was one of those rare artists who had a chance to compete with two generations – the 1974 Phase 2 era and the 1977/78 TDS era. His style was a favorite of the TDS crew, and they credit him with many style innovations.
9. Billy 167
Alias: Satan
Neighborhood: The Bronx
Years Active: 1972-1977
Billy 167 didn't start to peak until 1975/1976. When he did peak, he became a master at what is now known as the swirl style of piecing, a legacy he would pass on to Seen UA.
8. King 2
Alias: Kool Hodgee 1
Neighborhood: The Bronx
Years Active: 1970-1975
King 2 was another artist that wrote with Tracy 168 and Pnut 2. He was an excellent stylist, although the strength of his work was in the camouflage designs he used in his letters.
7. Pnut 2
Alias: An 2
Neighborhood: The Bronx
Years Active: 1971-1977
Pnut 2 was a writing partner of Tracy 168 – while he wasn't as prolific a writer, he was still considered to be one of the top stylists of his generation. He achieved the ultimate pop culture fame when his name appeared on a train during the opening of Welcome Back Kotter.
6. Tracy 168
Aliases: Hawaii, Lovester 1
Neighborhood: The Bronx
Years Active: 1970-1977
Tracy 168 was one of those rare all-around talents. He was prolific with tags and throw-ups but was most famous for his artistic ability. Tracy became famous for being the first writer to synthesize characters with names, a staple of the graffiti movement.
5. Superkool 223
Neighborhood: The Bronx
Years Active: 1971-1974
Superkool 223 was one of the first great taggers from the Bronx. More importantly, he's credited with doing the first graffiti masterpiece; it wasn't pretty, but he's the one we have to thank.
4. Riff 170
Aliases: Worm, Cash 2, Stax, Peal, Crunch.Boy 170, Conan, Mr.6, Dove 2, Flip 6, Crash 2, 2 Bad
Neighborhood: The Bronx
Years Active: 1972-1976
Riff was notorious for pulling pop culture imagery into the movement. He was bored easily with the letters of his own name and became famous for inventing a host of different names.
3. Phase 2
Alias: Cad
Neighborhood: The Bronx
Years Active: 1971-1974
As single hits gave way to piecing, Phase 2 emerged as the leading stylist of his day; perhaps more importantly, he handed out styles to hundreds of writers at the bench at 149th street, making the entire subway movement look better then it was.
2. Stayhigh 149
Alias: Voice of the Ghetto
Neighborhood: All-city King
Years Active: 1970-1975
If Taki was the first All-city King, then Stayhigh 149 was the first to do it with style.